Outbreak of the First World War. After the outbreak of war the family moved several times. The artist's wife, Marthe, helped to support the family by giving piano lessons.
Rest in peace dear soldier of the trenches
You no longer have to know where your fiancée is going
Or if your poor old mother smiles in the face of adversity
Hope to meet again…

Georges Rouault, plate 46 of Miserere,
" The just man, like sandalwood, perfumes the blade that cuts him down "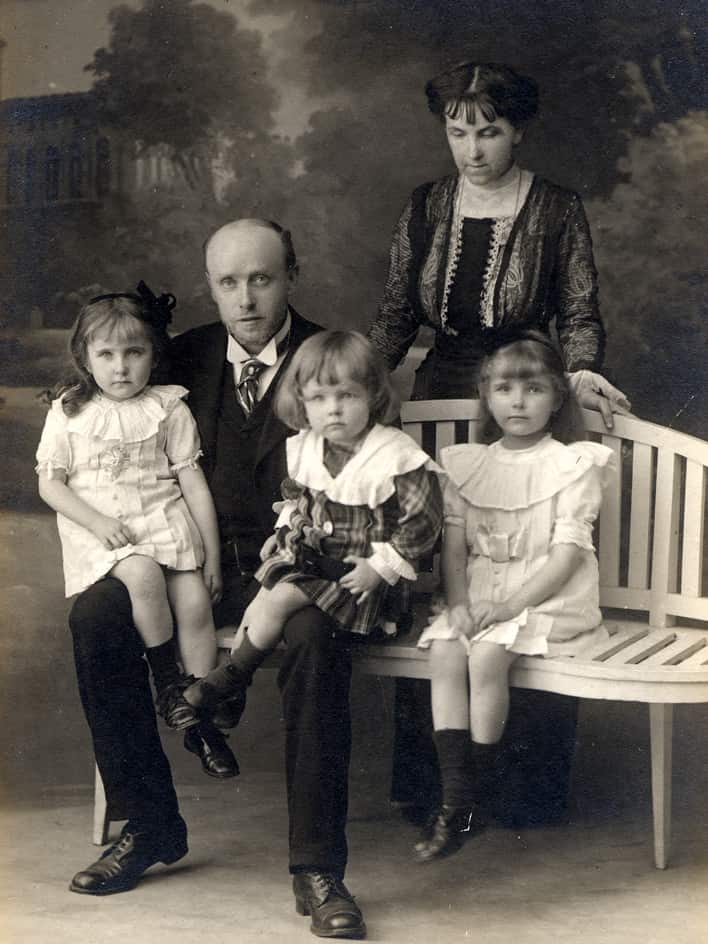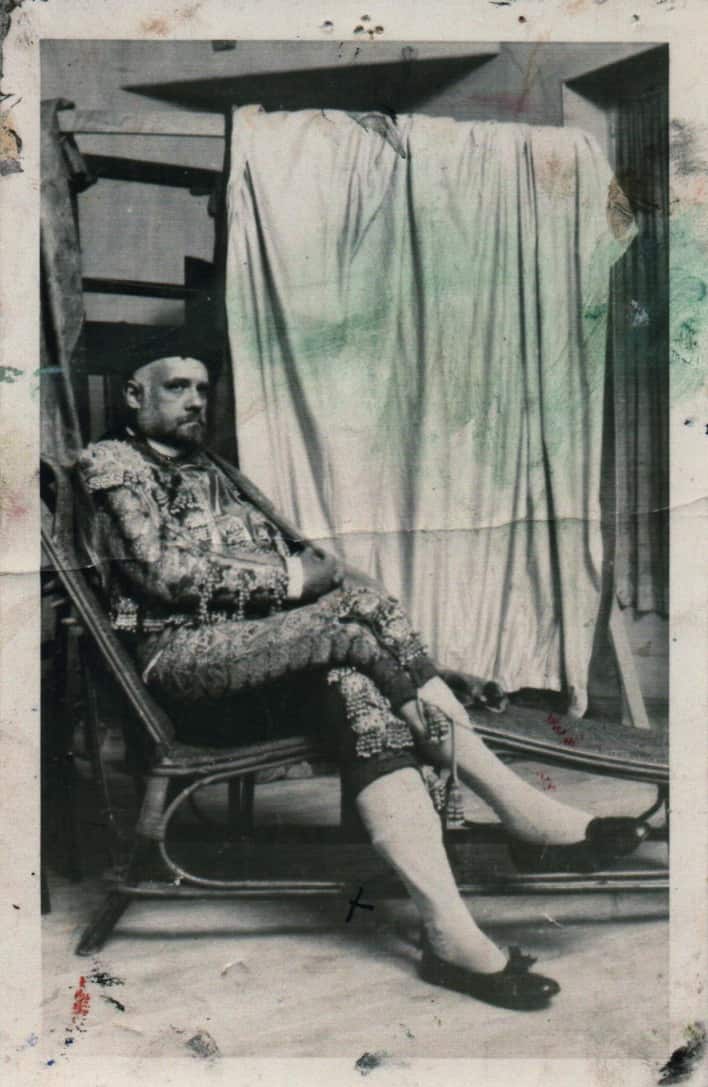 Ambroise Vollard, Georges Rouault's art dealer
Ambroise Vollard, who had already shown an interest in Rouault's ceramics, offered to buy the full contents of his studio. The painter agreed on the condition that he could finish his work at his own pace and Vollard became his primary art dealer. Negotiations had begun in 1913, but it was not until 1917 that Vollard paid the sum of 49,150 francs for a total of 770 works.
Born in 1866 on the island of Réunion, Ambroise Vollard arrived in Paris to study law but quickly abandoned his studies to become an art dealer. This exceptional talent scout discovered some of the greatest artists in modern art, bringing them recognition and his own financial success. He became best known for discovering Paul Cézanne, Paul Gauguin, Vincent Van Gogh, Henri Matisse and Pablo Picasso. Vollard forged friendships with the greatest painters of the late 19th and early 20th century.
He also had a passion for literature. Vollard was an art dealer, gallery owner, art publisher and writer. He was fascinated by Alfred Jarry's Père Ubu and asked Jean Puy, Bonnard and Rouault to illustrate his texts on Ubu. With a passion for art publishing, he asked his painter friends to create original lithographs and he became a pioneer in the art of printmaking.
Vollard opened his first gallery on Rue Laffitte, situated in the heart of the Paris art market near the Drouet auction house. When war broke out, he moved his works to the region of Saumur for safekeeping and only reopened in 1919. He asked Rouault to look after his collection for several months in 1918. Evicted during Hausmann's renovation works, he opened his gallery at 28 Rue de Martignac in the 7th arrondissement in Paris. Within this private mansion, Ambroise Vollard made a studio available to Rouault in 1925.
Printmaking and painting
In 1916, Rouault agreed to illustrate Les Réincarnations du père Ubu (Reincarnations of Father Ubu) with a text by Ambroise Vollard, in exchange for his support in publishing his Miserere.
He had free rein for the commission and worked on the Ubu plates over several years. The book was not published until 1932. Vollard also entrusted him with the illustrations for Fleurs du Mal by Baudelaire. Rouault devoted himself to his Miserere between 1917 and 1926. Due to Rouault's perfectionism and eternal dissatisfaction, each book was the fruit of a long process of experimentation and the object of incessant revisions. Preoccupied by his printmaking, he somewhat neglected his painting.
To honour his moral contract with Vollard, working in the studio in Vollard's mansion, Rouault made an effort to resume painting. This work was dominated by religious subjects and he explored landscapes and circus figures. He also painted nudes and portraits, whilst prostitutes and judges gradually disappeared from his work. The painter tried a new technique and began predominately using oil paints, which gave him a new palette of colours.
Rouault painted his self portrait L'Apprenti ouvrier(Apprentice Worker), one of his major works, at the age of 54.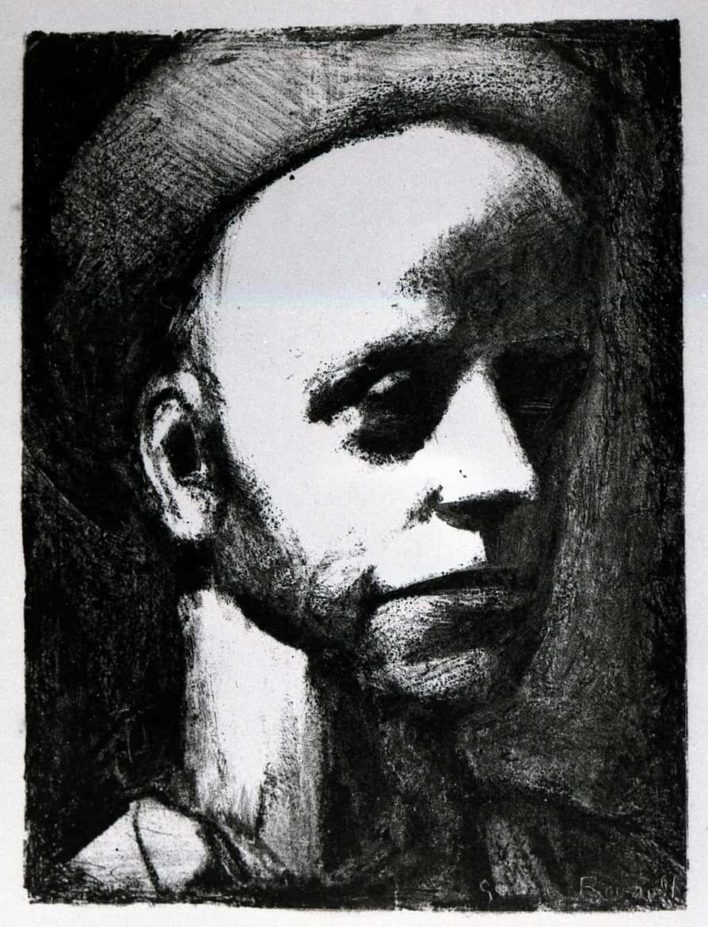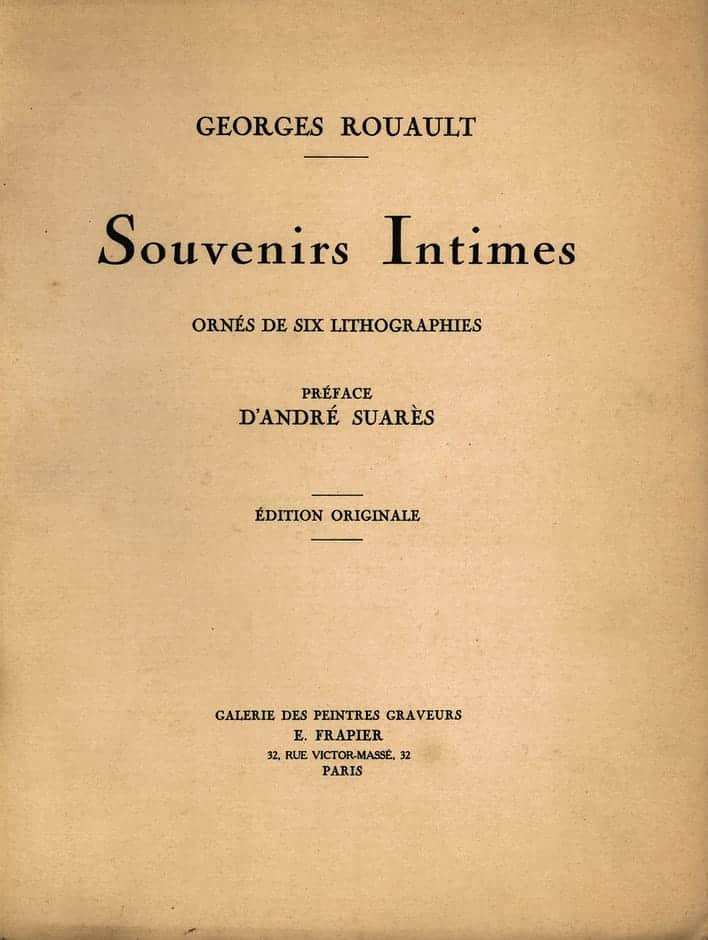 Rouault gains recognition
On 17 October 1919, L'Enfant Jésus parmi les docteurs (Infant Jesus among the Doctors) was acquired by the Unterlinden Museum in Colmar. It was Rouault's first canvas to be bought by the State. After the war, Rouault continued to show his work and gained recognition despite receiving continued violent criticism.
The first monograph dedicated to the artist by Michel Puy was published in 1921 by the NRF (Nouvelle Revue Française). Rouault was named Officer of the Legion of Honour in 1925.
In 1929, Rouault designed the sets and costumes for The Prodigal Son directed by Serge Diaghilev for The Ballets Russes ballet company.
Rouault and writing
Rouault published Souvenirs Intimes in 1926 in which he shared portraits of his teachers and friends Gustave Moreau, Léon Bloy, Joris-Karl Huysmans, Charles Baudelaire, Honoré Daumier, Paul Cézanne, Auguste Renoir and Edgar Degas.
The artist loved to write, eagerly responded to questions from critics and debated in the specialised press. He maintained extensive correspondence with André Suarès. Rouault was also fond of poetry. Editions Porteret published Paysages légendaires (Mythical Landscapes) in 1929, with poems by Rouault illustrated with lithographs and drawings.